Article
Why insurance is a big deal for this smash repairer
Insurance isn't Todd Richards' business, but it has been a big part of its success.
As the owner of Geoff Richards Panel Beating in Dubbo, Richards arranges his business insurance through QBE and also partners with QBE through its authorised repairer network to get customers back on the road after an accident.
"QBE has been a big part of our expansion," Richards says. "It's given us the confidence to go forward with developing our business knowing that they're there behind us.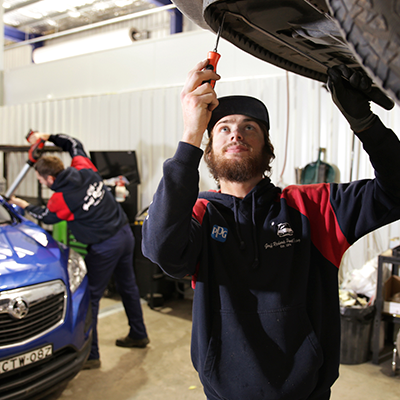 "Insurance is a big deal for us. Not just in the cars that are coming in, but for us to be able to conduct our business the way we want to, we need the insurance policies behind us to cover our liabilities and cover all the cars and equipment here in the shop."
Seeing other business suffer the consequences of underinsurance, where businesses don't have adequate insurance to cover the cost of loss or damage when something goes wrong, has been a strong lesson to Richards.
"I've heard instances in the past where we've had a business in this town burn down and that was devastating for them and they were underinsured.
"It's a massive thing to make sure that you've got the right policies in place and you're using the right insurer."
Helping Richards to manage his insurance is his local insurance broker, Emily Mealey, who also happens to be his daughter, pictured below with the rest of the Richards' family.
"My clients understand that they need to keep me up to date," says Mealey. "I need to be in the loop to know what's going on because businesses are always changing and growing and your insurance needs to do the same thing to make sure that it's still appropriate."
When it comes to Geoff Richards Panel Beating, Mealey's risk assessment takes in property, machinery, liability and business interruption.
"Geoff Richard's Panel Beating specifically needs a business interruption extension on their machinery breakdown policy. Because without that machinery they're going to have to hire in another piece of machinery or their income is going to drop.
Having incorrect insurance, the wrong cover, or being underinsured could stop a business getting back on their feet after an incident," Mealey says.
"So sometimes without insurance your whole livelihood is gone and you have to start again."
This underpins Mealey's role as a broker.
"I sell insurance because I want my community to be safe. It gives me peace of mind knowing my customers are with an insurer like QBE who are trustworthy and have a good claims system.
"I know that if an incident were to occur with one of my clients, we have the backing of a reputable insurance company, and I know we'd have them back on their feet and in a timely manner as well."
Read more about QBE's small business insurance.