'Flight' artwork by Ella Gillespie
We acknowledge the Traditional Owners and Custodians of the lands on which we live and work across Australia and recognise their continuing connection to land and waters as the oldest living culture on Earth. We pay our respects to Elders past, present and future.
Our vision for reconciliation is for Australia's First Peoples to be valued, accepted, and to experience equality in our society. We value their customs and rich heritage and want to see this preserved and celebrated for generations to come.
Our Reconciliation Action Plan
Developed in partnership with Reconciliation Australia, our Innovate Reconciliation Action Plan (RAP) 2023-2025 formalises QBE's commitment to creating meaningful relationships and promoting sustainable opportunities for Aboriginal and Torres Strait Islander communities, organisations and businesses.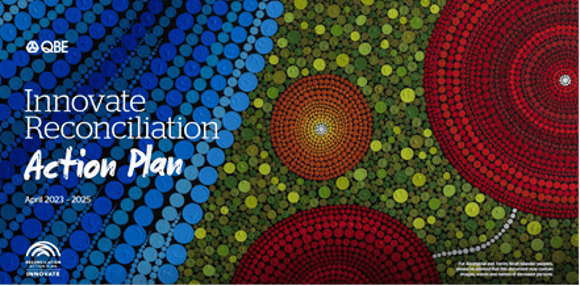 The QBE Innovate RAP 2023 – 2025 outlines our ongoing commitment to employment opportunities for Aboriginal and Torres Strait Islander peoples. We also strive to build and maintain two-way meaningful relationships with Indigenous partners, communities and charities to continue raising awareness of, and learning from, the customs and rich heritage we want to see preserved and celebrated for generations to come.
We will seek to partner with First Nations customers to understand how to provide a culturally respectful experience, enabling a more resilient future in addition to exploring the expansion of our membership with Supply Nation within our partner channels.
As a global organisation that was established in Australia, we strive to use our platform and sphere of influence to drive ongoing change, be active allies, and continue to show our respect through listening and learning from the oldest living culture on Earth.
The artwork
Meet the artist behind QBE's latest RAP artwork – Ella Gillespie.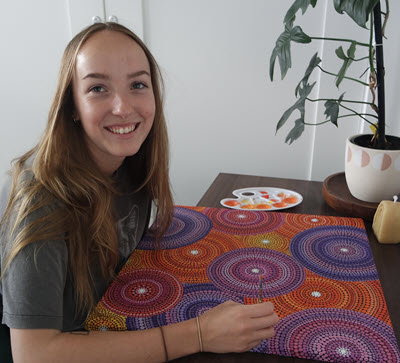 Ella is able to trace her family history to the Yorta Yorta and Awabakal nations. However, it was growing up by the ocean and surrounded by the national park on Bundjalung Country that Ella has been able to truly connect her love of painting and drawing with the natural beauty of the landscape and animals and incorporating her own stories which inspire her work. Ella has enjoyed painting and drawing from a very young age and her creative energy was always fulfilled by taking in her surroundings and painting the bright blue of ocean or green of the bush, blending and mixing colours to get the exact colour for a pink sunset and painting on rocks, paper or natural product. Ella has been successful in winning several national art competitions and is mentored by renowned Australian artists who have inspired her to discover her own artistic pathway. Ella's love of bright colours in her artwork and eye for fashion and design has led to a collaboration with Jarin Street apparel with a dream to design her own fashion label in the future. The artwork in Ella's words: "This artwork is my interpretation of black cockatoos as they graciously glide from tree to tree feeding amongst the Casuarina (She-oak) trees that line the river's edge and surrounding landscape. The red dots represent the red flower of the Casuarina tree and the orange dots represent new growth." As well being represented on our RAP, the original piece of Ella's artwork is proudly displayed at our Parramatta (on the Dharug nation) office.
The committee
QBE aims to establish an inclusive workforce that reflects the diversity of our customers and the communities we work within. Our footprint and ability to drive change continues to grow as we learn more about our Aboriginal and Torres Strait Islander employees, partners and customers. Our RAP committee and our senior leaders at QBE have a passion to make a difference, and work towards reconciliation and Aboriginal and Torres Strait Islander inclusion at QBE. Committee-led initiatives include the national "Welcome/Acknowledgment to Country" guidelines distributed to all offices and partners, annual events for NAIDOC Week, education around key dates of cultural and historical significance as well as partnering with Indigenous communities on various projects.
Community engagement
The QBE Foundation is committed to creating strong, resilient and inclusive communities by working in partnership with community organisations. A core priority for our Foundation is inclusion, with a focus on creating sustainable and meaningful impact for First Nations peoples and communities.
Two key ways we do this are through:
Partnering with Stars Foundation.
A partner since 2019, Stars Foundation provides evidence-based, full-time engagement and wellbeing programs for Aboriginal and Torres Strait Islander girls and young women.
Awarding QBE Foundation local grants.
We reinvented this program in 2020, to provide more meaningful support for community initiatives outside of our large partnerships. In 2022, we awarded $360,000 of grants. Read how a grant is supporting the financial wellbeing of Indigenous Australians with the ICAN Learn's Yarnin' Money™ program.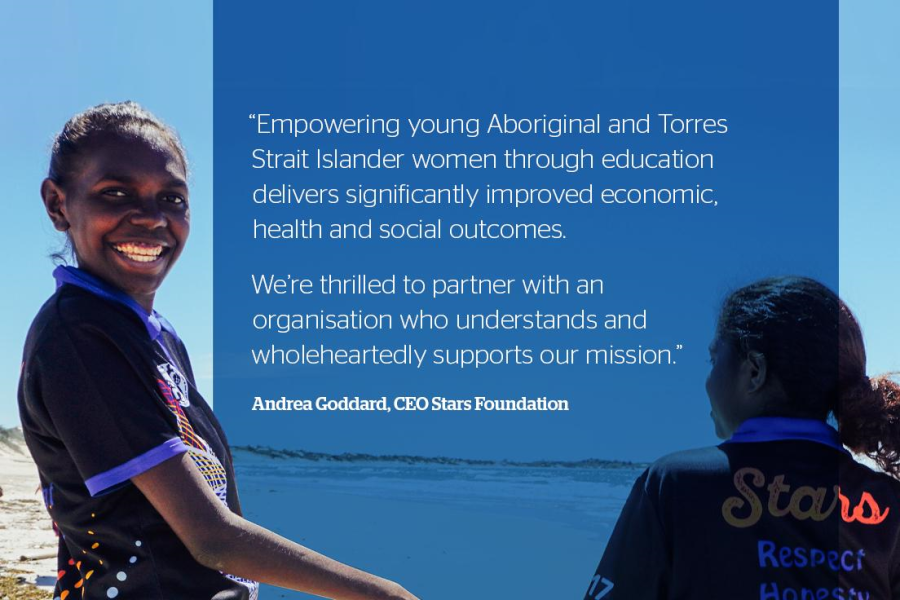 Read our case studies to find out more about how we are working to bring our RAP commitments to life.