For our Aboriginal and Torres Strait Islander viewers, please be advised that the following page may contain images, voices and names of deceased persons.
We acknowledge the Traditional Owners of the land on which we stand today and recognise their continuing connection to land, waters and culture. We pay our respects to the Elders past, present and emerging.
As an active insurer of Aboriginal and Torres Strait Islander communities in Australia, we've long been committed to those communities and the preservation of Indigenous culture, values and traditions.
Our vision for reconciliation is for Australia's First Peoples to be valued, accepted and to experience equality in our society. We value their customs and rich heritage and want to see this preserved and celebrated for generations to come.
Our Reconciliation Action Plan
Developed in partnership with Reconciliation Australia, our Innovate Reconciliation Action Plan (RAP) 2020-2022 formalises QBE's commitment to creating meaningful relationships and promoting sustainable opportunities for Aboriginal and Torres Strait Islander communities, organisations and businesses.
Our Innovate RAP gives us the opportunity to take this commitment to the next level, strengthening and maximising the value of our relationships. Through our RAP we can bring all our actions together and continue challenging ourselves to build upon our commitments each year.
Find out more about our Innovate Reconciliation Action Plan 2020-2022.
QBE is pleased to be launching its 4th Reconciliation Action (RAP) Plan 2023 – 2025 which is in its final stages of approval with Reconciliation Australia.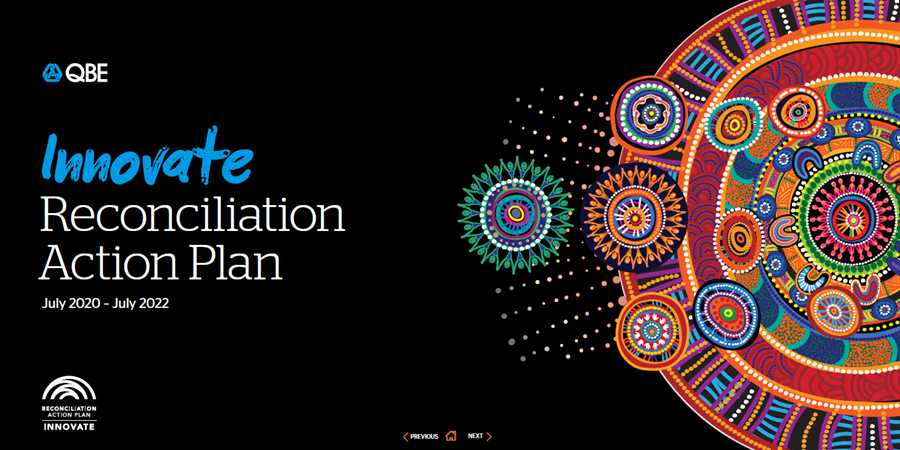 The artwork
Australian Aboriginal art is one of the oldest art traditions in the world and a remarkable form of storytelling. For Aboriginal and Torres Strait Islander peoples, storytelling is both a gift and a very old custom.
To bring our RAP to life we engaged Gilimbaa, an Indigenous creative agency, to craft a custom piece of art that would accompany our RAP and tell the story of QBE's reconciliation journey. To help map this out, Gilimbaa facilitated a strategy session with 20 of our people from across all areas of the business, each with different knowledge, expertise and experience. Their thoughts and feedback helped identify key pillars which formed the foundations our artwork is designed on. We feel very connected to our artwork as it represents our past, present and future.
The committee
QBE aims to establish an inclusive workforce that reflects the diversity of our customers and the communities we work within. Our footprint and ability to drive change continues to grow as we learn more about our Aboriginal and Torres Strait Islander employees, partners and customers. Our RAP committee and our senior leaders at QBE have a passion to make a difference, and work towards reconciliation and Aboriginal and Torres Strait Islander inclusion at QBE. Committee-led initiatives include the national "Welcome/Acknowledgment to Country" guidelines distributed to all offices and partners, annual events for NAIDOC Week, education around key dates of cultural and historical significance as well as partnering with Indigenous communities on various projects.
Community engagement
The QBE Foundation is committed to creating strong, resilient and inclusive communities by working in partnership with community organisations. A core priority for our Foundation is inclusion, with a focus on creating sustainable and meaningful impact for First Nations peoples and communities.
Two key ways we do this are through:
Partnering with Stars Foundation.
A partner since 2019, Stars Foundation provides evidence-based, full-time engagement and wellbeing programs for Aboriginal and Torres Strait Islander girls and young women.
Awarding QBE Foundation local grants.
We reinvented this program in 2020, to provide more meaningful support for community initiatives outside of our large partnerships. In 2022, we awarded $360,000 of grants. Read how a grant is supporting the financial wellbeing of Indigenous Australians with the ICAN Learn's Yarnin' Money™ program.