The bushfire season of 2019-20 is one that will live long in the memory, and rightly so. It was officially the worst ever. As a consequence, 34 people directly lost their lives, as did billions of animals, and over 3,000 homes – many on farms – were destroyed.
Claims relating to the bushfires are estimated to be over $2bn, illustrating the significant impact communities faced. As for the farms? They potentially suffered a double blow.
"For many of us, our business and our home is distinct, and if we lose one, we still have the other," says Laura Nelson, who heads up QBE's Small and Medium Enterprise (SME) Digital Engagement and has a particular focus on farm insurance.
"For farmers, if something happens to their farm, they've lost their home and their business in one fell swoop."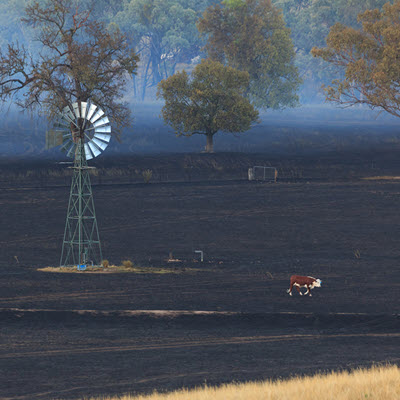 The problem of underinsurance
Of course, having the right insurance in place can at least provide some means for recovery – however, many who needed to claim have discovered they simply haven't got the right amount, or type, of coverage in place.
"Underinsurance is a major issue when it comes to farms," says Rod Ostrognay, QBE's National Farm Product Manager.
"Unfortunately, as we've seen as a consequence of the bushfires, a lot of people didn't insure their property to the true values or sometimes didn't insure things altogether. When you have a significant loss from a bushfire, you find you're sometimes hundreds of thousands of dollars short of what it costs to replace those items.
"For example, people take out small farm home cover forgetting about added costs to rebuild in bushfire zones, the costs of water tanks, solar systems, remote power costs and the need to specifically include the machinery sheds, stables and fencing."
Covering all aspects
Bushfires are one of many risks farms face. From escaped livestock and stolen machinery to business liability or market volatility, there's an awful lot of risk exposure for farms.
"There are so many things you need to consider for insurance," explains Nelson. "You've got your home and private car, then you've possibly got sheds, livestock, horses, working dogs, commercial vehicles, maybe a boat, and then you've got shed contents and machinery, grain and hay stocks, tax audits – the list goes on."
The complexity of the farm product means we're constantly assessing how best to deliver value to our customers, says Nelson. A recent pricing review has resulted in some adjustment to rates, mainly as a result of claims inflation and larger than expected claims volumes. Please contact your BRM if you would like further details on the pricing changes.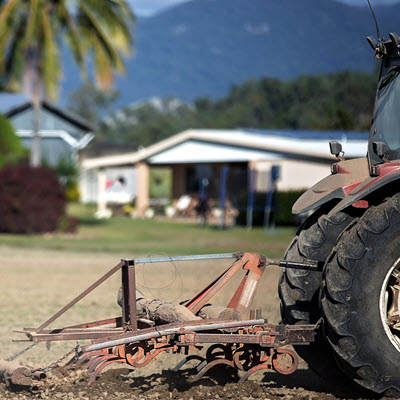 An ever-increasing market
As COVID-19 changes the way we live and work, it's possible that increasing numbers of people will consider leaving the city for a different kind of life in rural and regional areas where property prices are more affordable and life has a different quality. These tree changers represent an ever-growing pool of people who will potentially need farm insurance – and expert advice.
"On one end of the scale you can have a single home on some land, or a hobby farm where they've got a home and small farm assets – they might have some livestock or horses, or maybe grow a few veggies and sell them at the local market," says Ostrognay.
"Then you've got your regular farming operations, right up to the large or corporate-type farming operations."
Because there are so many different farm scenarios, it's important to explore every aspect of the operation and tailor the cover to the farmers unique insurance needs.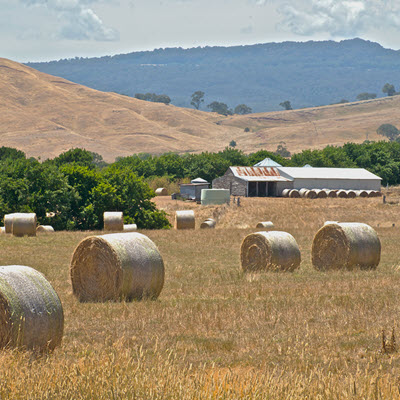 Farm insurance tips for brokers
When dealing with farm clients, Ostrognay says there are two things that are important to consider when assessing their insurance needs.
"You need to talk to the farmer and tailor the product specifically to them – it's a bundled product, so you need to fully understand the sections they will require.
"Also, be mindful of underinsurance – if the worst does happen, they need adequate cover to replace what they've lost.
"Ultimately, insurance is about protection – and while you don't want to be in a position where you have to use it, it's always reassuring to know that if you need it, it's there."
And, as we've all experienced over the past few years, you'll just never know when it'll be needed.
Next steps and training
Every farm is unique, which is why an off-the-shelf policy is unlikely to meet all the requirements. To ensure farms have the right coverage, you need a flexible insurance offering that can be moulded to fit.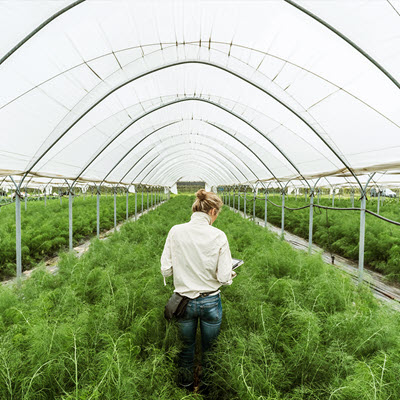 The QBE Farm Pack includes everything from farm property to liability, business interruption to working-dog cover, equine to machinery breakdown, and is underwritten by farming experts.
It's managed via a self-serve online portal, through which brokers can get quotes, bind, and make any changes along the way – anything that needs a further conversation can be referred through the system.
In addition, QBE's online farm insurance training offers the opportunity for brokers to get five CPD points while increasing or refreshing their knowledge of the nuanced world of farm insurance.
"It's a very comprehensive and interactive course that takes two or three hours to complete," says Nelson.
"No two training screens are the same, and it explores many of the key features about farm insurance."
In addition, a follow-up Q&A session with QBE underwriters is available, for an additional CPD point.
"It really is an area where the deeper your understanding the better," says Ostrognay. "It's not a black and white product – it's complex – so the greater your understanding, the better the service you can offer."
Find out more about QBE's Farm Pack insurance