Article
Asbestos in commercial buildings: a hidden threat
Until the late 1980s, asbestos was a popular building material and commonly used in commercial and residential structures – despite long global links to asbestos exposure and consequential health issues.
A naturally occurring mineral mined from the ground, asbestos is resistant to high temperatures and fire and was a material of choice for many building products, including flat and cement sheeting, pipe insulation, general insulation, floor tiles and roofing.
As time went on, however, the health risks became increasingly apparent. Exposure to asbestos raises the risk of developing lung, ovarian and larynx cancer, as well as mesothelioma, which is cancer of the lung lining – all of which usually develop decades after the initial exposure (approx. 20 - 40 years latency period).
Australia has one of the highest rates of mesothelioma globally – annually, between 700 and 800 people are diagnosed with the disease, for which there is no cure, while in total asbestos kills more than 4000 people per year in the country.
It's no surprise that Australia has one of the highest rates of asbestos-related disease in the world because we were one of the highest users of asbestos per capita in the world. And, while the use of asbestos-containing products was phased out in the 80s, it wasn't until 2003 that its use was banned.
As a result, we still have a significant number of commercial and residential buildings across Australia that contain asbestos.
"Asbestos was commonly used in buildings – it was cheap, and it was effective," says Manchu Mahalingam, Senior Risk Engineer at QBE. "But there are now a lot of legacy issues due to its presence in buildings today.
"Asbestos can be friable or non-friable, and there's a big difference in the health implications. Non-friable or bonded asbestos are solid products – for example, pipe insulation/lagging or asbestos cement sheeting – and they aren't a health risk unless their fibres are disturbed.
"Friable asbestos, which came in a crushed or powdered form, is very easy to inhale."
And, as you may expect, the presence of asbestos has major implications for insurers, particularly when it comes to the increased claims costs due to the work associated with asbestos removal and decontamination.
Locating asbestos
If you walk into a building constructed before the mid-1980s, it likely contains asbestos. In commercial buildings, asbestos can be commonly found in the following areas:
Roofing: Flat patterned and corrugated roofing, guttering, ridge capping, imitation brick cladding and lining under the eaves
Plant room: Areas around water pipes, water heaters and electrical boards
Tiled areas: Underlay sheeting for ceramic tiles and backing of vinyl sheet flooring
Electrical boards: The baseboard of electricity meters may also contain asbestos.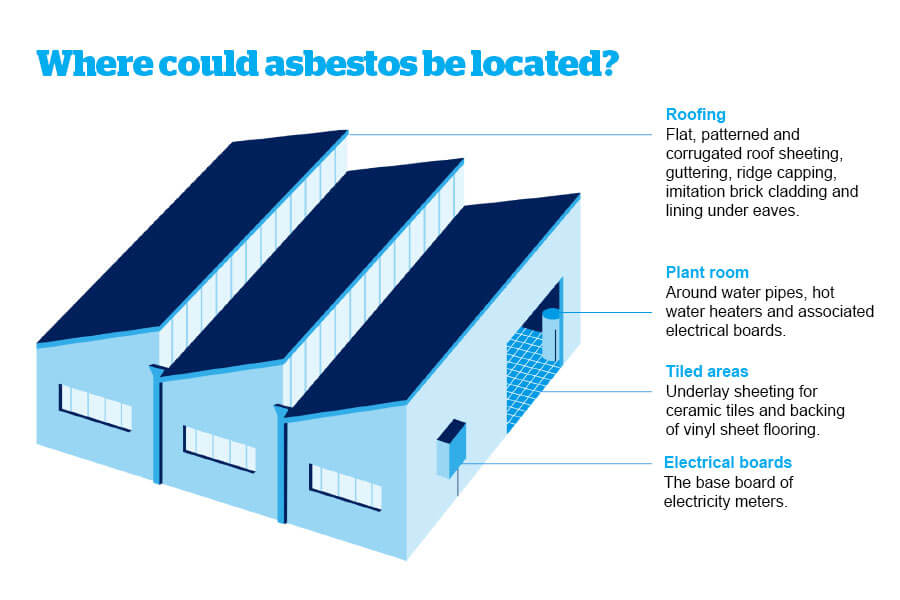 It can also be found in several other areas, including around firewalls and doors, sewer pipes, cladding and fencing, flue pipes, and drain traps.
Difficulties arise because asbestos isn't immediately identifiable by a visual inspection, and businesses whose buildings have asbestos need to keep an asbestos register detailing the location of asbestos in the building.
It's the responsibility of property managers and owners to ensure an asbestos register is maintained and kept at the workplace. (Note, an asbestos register is not required for buildings constructed after 31 December 2003, if no asbestos has been identified in the workplace, or if no asbestos is likely to be present at the workplace.)
Government websites have handy tools to help identify asbestos in buildings, but remember, you cannot tell if a material contains asbestos just by looking at it – only testing can confirm.
Asbestos and property risks
While asbestos that's isolated from the rest of the facility presents a low risk, keeping it undisturbed is easier said than done. Asbestos cladding, roofing and pipe cladding, for example, is exposed to the elements and can present a high risk if damaged during a storm.
Fires, too, present increased danger in a building containing asbestos.
"Anything that has a high fire load, for example, is high risk as contamination can occur and is unlikely to be isolated to one part of the site," says Mahalingam.
"If a commercial building containing asbestos has fire or storm damage, the cost of work increases significantly.
"Removing asbestos from a site is an expensive exercise alone, but once there's an incident it becomes a compounding cost. Not only do you have remediation and disposal costs, but you also have contamination and other issues to consider – not only of the building but of the stock and equipment inside it."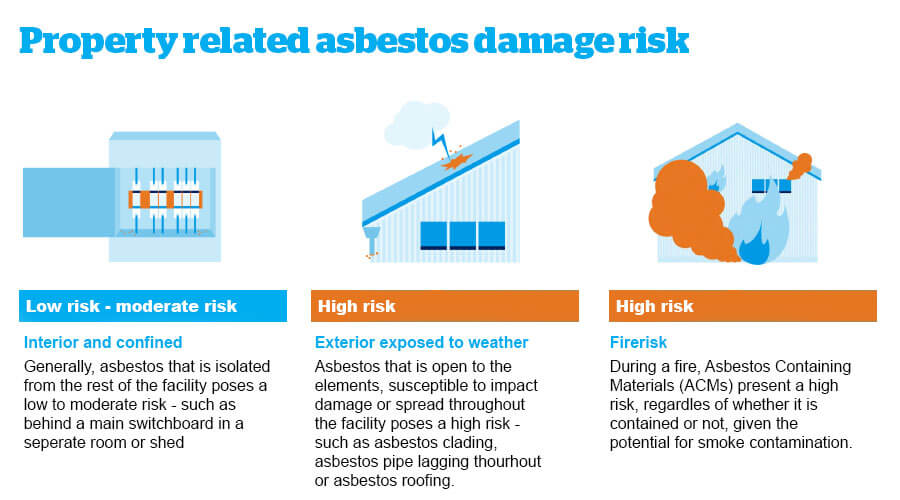 Asbestos and human health concerns
Working with commercial property owners and managers to understand the risks they face is an important task for brokers.
From a general liability perspective, there's a risk for visitors and contractors in and surrounding a high-risk asbestos site. If a business is importing products, do they contain asbestos? Could that be a product liability?
And, from an environmental perspective, it's critically important that asbestos is disposed of correctly.
Mahalingam says, "Asbestos exposure is still a huge issue – by having the right conversations with customers, you can not only help them manage risk but also have a wider impact and prevent unnecessary loss of life."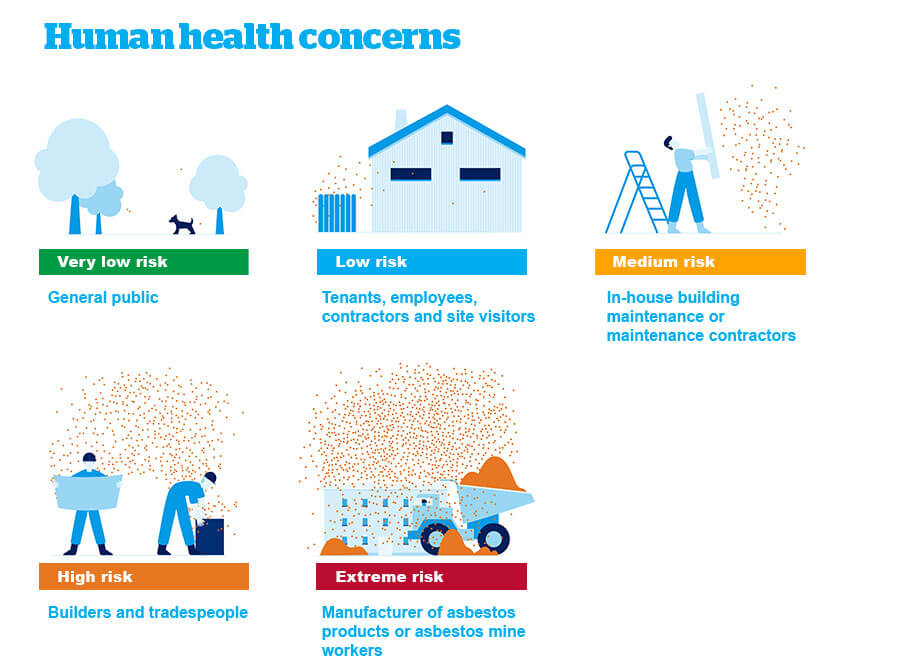 People
Risk level
Risk
Exposure
General public
Very low risk
All air has a low level of asbestos fibres.

Number of fibres: Background
Frequency: Constant

Tenants, employees, contractor and site visitors
Low risk
An incident could release asbestos fibres in the vicinity of the premises - such as renovations at a neighbouring property or a nearby tenancy.
Number of fibres: 10s-100s x background
Frequency: Occasional
In-house building maintenance or maintenance contractors
Medium risk
Workers involved in ad-hoc renovations may not identify asbestos correctly or could undertake unsafe works themselves.
Number of fibres: 100s-1000s x background
Frequency: Occasional
Builders and tradespeople
High risk
Workers who are frequently exposed to asbestos and are engaged in unsafe practices.
Number of fibres: 100s-1000s x background
Frequency: Frequent
Manufacturer of asbestos products or asbestos mine workers
Extreme risk
Workers involved in the production of asbestos – such as Asbestos Cement Sheeting Manufacturers or involved in the mining of asbestos etc.
Note: All asbestos mining in Australia stopped in 1983. Manufacturing of asbestos products is also banned in Australia on 31 Dec 2003.
Number of fibres: Millions x background
Frequency: Daily
The challenge of managing asbestos
Legislative requirements for managing asbestos vary from state to state. Safe Work Australia is a great resource; Victoria, NSW, South Australia, Queensland, Western Australia and the Northern Territory have state-specific guidance.
The federal government has a model code of practice too, but it's not a regulatory requirement.
Asbestos state and federal legislation
Federal Government Work Health and Safety Act (the WHS Act)
Under Section 274 of the Act: Work Health and Safety (How to Manage and Control Asbestos in the Workplace) Code of Practice 2015
Queensland
Legislation regarding asbestos is overseen by the Department of Employment and Industrial Relations under the Work Health and Safety Act 2011.
New South Wales
Safework NSW has responsibility for asbestos regulation under the NSW Work Health and Safety Act 2011.
Victoria
Safe Victoria controls asbestos management under the Occupational Health and Safety Act (OHS Act) 2004 and Occupational Health and Safety Regulations (OHS Regulations) 2017.
South Australia
Safework SA is responsible for the administration of the Work Health and Safety Act 2012 (SA) (WHS Act) and the Work Health and Safety Regulations 2012 (SA) (WHS Regulations). Chapter 8 of the WHS Regulations relates to Asbestos.
Northern Territory
The Department of the Attorney-General and Justice is responsible for asbestos safety. General laws are governed in the Work Health and Safety (National Uniform Legislation) Act.
Western Australia
The Occupational Safety and Health Regulations 1996.
*Information correct at time of Q Academy presentation but may be updated at a later time.
Overall, however, there are four key areas to focus on when managing asbestos in commercial buildings.
Identify asbestos: Ensure the asbestos register and management plan is up to date.
Identify the risk of asbestos exposure: This comes from the register and management plan.
Implement control measures for asbestos: Eliminate the risk, substitute or isolate the risk, and manage the risk. If there is a risk of exposure, health surveillance must be provided.
Review control measures: Ensure the controls in place are effective, the asbestos register is updated at least every five years, records are kept, and WorkSafe is notified if there is an exposure.
"To manage asbestos effectively, these steps must be followed," says Mahalingam.
"If it's not managed correctly, there are significant potential penalties, as well as legal and health consequences."

To learn more about asbestos risks, watch our Q Academy webinar: Asbestos materials management: Property damage & liability exposure
Explore other Risk Insights on Q Risk Insights or talk to our property risk solutions team today about your property risk.
We can help you understand the asbestos considerations when reviewing commercial insurance and its impact on the cost of a claim if an incident occurs.