Article
Understanding warehouse risks – and how to minimise them
From the security of the building itself to the products being stored within, warehouses pose many hazards that need to be identified and mitigated.
QBE claims data1 reveals the greatest volume of claims come from storm, water damage and security threats (average claim cost $6,000, excluding outliers), the greatest losses come from fire and flood-related claims (average claim cost for a catastrophic fire more than $440,000, excluding outliers).
"When looking at warehouses from a risk management perspective, large losses usually have multiple loss prevention and control failures," says Craig Rogers, QBE, Manager Risk Engineering.
By having effective loss prevention procedures in place, warehouse hazards are more likely to be identified and reduce the chances of losses and interruptions. When further combined with appropriate management and property damage control strategies, the extent of loss damage can often be reduced. There are, however, several factors to consider.
Warehouse construction materials
The type of materials used to construct the warehouse will affect the risks it faces.
For example, if the building contains asbestos, then consideration will be needed for the potential contamination and remedial works that could be required. Other construction materials may impede or support fire spread, such as refrigerated storage areas where insulated sandwich panels may present a greater fire risk than what is being stored.
The age and condition of the building will also need to be taken into account – this may increase the possibility of water damage, for example.
Warehouse location and layout
If the warehouse is located near other businesses, there is a possibility of a fire spreading, resulting in loss or interruption to either the warehouse or neighbouring businesses. Meanwhile, the warehouse's layout needs to be evaluated in terms of fire separation – that is, the ability of the building to contain a fire in an area, rather than it spreading quickly.
"Separating potential ignition sources from storage areas reduces the likelihood of losses, whilst minimising damage to stock and business interruptions impact," says Rogers.
The type of goods being stored and used in warehouses
The contents of a warehouse will influence the risks faced and the risk mitigation strategies needed – so understanding what's being kept in the warehouse is important.
Stored materials generally fall into four categories: non-combustible, combustible, plastics and dangerous goods. The material being stored along with the storage arrangement determines the potential fire spread and severity characteristics – products such as aerosols or flammable liquids can potentially spread a fire quickly, and batteries are an energy source and can be an ignition source.
"Not all storage is the same, and sometimes the product isn't the hazard – it could be the packaging, or it could be a property of the product that presents the greatest concern in relation to property damage," says Rogers.
Warehouse storage arrangements
Storage arrangements, particularly where fixed fire protection is installed, are critical when it comes to risk management planning and naturally depend on the type of product being stored and how long it needs to be stored.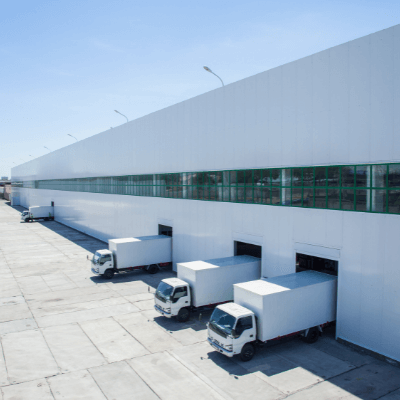 Typical storage hazards include stability and loading, impact damage, loss of containment, and even firefighting.
Fixed fire protection such as sprinklers are an effective but often overlooked control measure. It requires detailed design relevant to the product being stored and the storage arrangement. Any changes to the stored material or arrangement can result in the building being considered as non-sprinklered.
"It's not as simple as installing a sprinkler on the ceiling and expecting any storage type or arrangement to be effectively protected", says Rogers.
Electrical hazards in warehouses
One of the main causes of warehouse claims is electrical problems, including switchboard issues, fixed wiring installations, solar, High Intensity Discharge (HID) lighting or something else going wrong – for example, water entering an inadequately sealed switchboard via an overflowing box gutter.
"A good building maintenance program, periodic electrical inspections and routine thermographic scans can all help minimise those risks," says Rogers.
Smoke and water damage in warehouses
Water damage represents a large percentage of warehouse loss events2, from storm or flood events, or from poor building maintenance.
"Building maintenance is key to preventing many water damage losses, and it should include roofing and guttering inspections to ensure there's no debris," says Rogers.
Smoke can be more difficult to contain than water, and even though smoke damage may seem minor, it can render the product unsellable.
"Fire separation can help minimise smoke damage, as well as keeping fires contained," says Rogers.
The risks of idle pallets and waste bins
Pallets and waste bins close to the building present significant exposure to warehouses, as they can be easily ignited by a discarded cigarette, hot work, faulty equipment or malicious damage.
Ensuring adequate separation from the building is critical. Key considerations are the construction material used for the exposed wall, the type and amount of pallets being stored, and storage heights. "It's generally recommended that there are 10 metres of separation between idle pallet storage and the building, but this may need to be increased where pallets are plastic, or where the exposed building wall is of combustible construction or has openings such as windows or vents".
Loss prevention management
There are many risks to warehouse and storage occupancies, so it's important to have effective and well-embedded loss prevention procedures in place to reduce the likelihood of significant losses and interruptions.
The minimum requirements for any warehouse risk management plan are hot work controls, fire impairment management and self-inspections, all of which provide a risk assessment process whilst requiring certain controls to reduce the likelihood of a loss event. Cold work controls are also imperative for buildings with insulated sandwich panelling construction as this material can contribute to fire spread.
You can find QBE templates for these requirements in the Property Risk Solutions area of our website.
Risk improvement recommendations
A core function of the QBE risk solutions team is to visit customer facilities and make risk improvement recommendations. When considering warehouse and storage property survey visits over the past ten years, the vast majority of recommendations resulting from these surveys related to the occupancy and protection categories. Occupancy relates to the activities undertaken in the building, including lack of or deficient loss prevention procedures, and hazards presented by electrical equipment and storage practices.
Fire protection recommendations mostly relate to inspection and maintenance issues, including storage type and arrangement changes leading to sprinkler protection designs becoming inadequate.
By periodically reviewing warehouse and storage occupancy risk and implementing effective loss prevention procedures, and where necessary protection systems, you can support your insurance program and reduce the possibility of suffering losses or having to shut down the facility for a period of time.
Want to learn more? Watch our webinar on 'Warehouse loss risk management' or explore more of our Q Risk Insights and Property Risk Solutions services.
---
1 QBE Warehouse Loss History (2011-21)
2 QBE Loss History