Article
Learning to control the controllables is key to business success
This article was originally published in October 2021 and has been update.
Focusing on your purpose is an antidote to the world events we cannot control
By having a strong purpose, you can inspire people around you, too
By focusing on the controllables, you can set yourself up for business success, regardless of what else is going on around you.
The world's an uncertain place right now, and it's fair to say we all have our good days and our bad days.
"All you can control right now is how you react and how you respond," says Keith Abraham of Passionate Performance. "It is all about what you do now and what you are prepared to do next that will determine if you are just going to go through challenges or grow through them."
Given there's so much going on in the world today that's outside our control, it's smart to not only turn our attention to things we can control, but also spend time on achieving things that have purpose in areas we're passionate about.
"Investing time in achieving things in an area you're passionate about can help increase motivation, boost self-worth and have mental health benefits too," says Elliot Hill, QBE's General Manager Partnerships and Specialty, Commercial Lines.
Indeed, having purpose in life has been shown to have a number of physical health benefits, including increasing life expectancy, can improve the quality of your sleep, and also increase your resilience.
A McKinsey study from August 2020 says: Creating strong links to an individual purpose benefits individuals and companies alike – and could be vital in managing the post-pandemic uncertainties that lie ahead.
As a business leader, that sense of purpose, and achievement, not only benefits you, but it also impacts others around you. Having a commitment to values and being deeply authentic are two recognised characteristics of truly inspirational leaders, and these leaders can unlock higher performances from their teams.
Watch our Q Academy webinar with Keith Abraham
Focusing on the controllables
Having purpose in your life and in your work sounds straightforward enough and can benefit both you and the people around you.
It can be easier said than done, however.
From continually changing work arrangements and home schooling to families being separated across both domestic and international borders, many of us are living in a continual state of flux.
"You need to shut out the noise and focus on what you can control, which is the actions you take, the attitude you have, how you respond, and the vision you focus on," says Abraham.
"That is what you need to control. Let go of the ifs, maybes and possible changes and focus on running your own race."
Creating your own story
By shutting out the external noise and the uncontrollables, and having purpose in our lives, we are in a better position to build and develop our businesses.
When working with leaders to help them achieve their goals and build – or maintain – momentum in their business, Abraham helps them set their goals for the coming year – and it centres around the four 'Ps' – profits, people, processes and profile.
"Now more than ever you need to be focused on the goals you want to achieve in 2021 to set yourself up for a business transition in 2022," he says.
By focusing on key financial milestones, the people you need to help you transition, the processes needed to build an effective and efficient business and the profile you need in front of prospects, you can build a clear picture in your mind of where you want to get to – and how you're going to do it.
And having this vision is critical because it can empower you to make decisions that you otherwise may not.
"As adults we can either be past-present focused or we can be present-future focused," he says.
"We either let everything from our past dictate how we react and respond in the present, or we take action today that aligns with our vision for the future now."
It's important to both understand how we process thought, and also know where we are heading.
"Having a clear idea of what we want to achieve enables us to align our actions today with a longer-term goal," says Hill.
"Having that vision in mind empowers us to make decisions and take actions that we might otherwise shrink away from."
Knowing your true value
As an insurance broker, it's easy to underestimate the value you bring to customers – and it's important to be able to define and articulate what your true value to a customer is. Knowing your true value is a key part of feeling that purpose in your work.
"Working out why your customers come to you is a valuable exercise at any time, but especially during times such as these," says Hill.
"Being able to articulate your value proposition clearly is really important, and helps you move out of a transactional mindset."
Maintain the momentum
It's tempting to batten down the hatches and stay put while the world sorts itself out, however, Abraham says it's imperative to keep moving forward.
"You will need momentum onside, and the only way to create momentum is by taking consistent deliberate daily action," he says.
"The last thing you want to happen is that you become stuck, because if you do it will be so much more difficult for you to maximise the potential or profitability of your business."
In order to avoid getting stuck, Abraham suggests creating a set of daily non-negotiable rituals that form a success routine that will maintain and build upon your current business momentum.
It's easy to lose some business focus with everything going on in the world right now. However, by taking some deliberate action, you can ensure you're helping guide your own destiny, rather than it being determined by things that are completely out of your control.
Watch out Q Academy webinar with Keith Abraham
Explore other Q Academy resources
---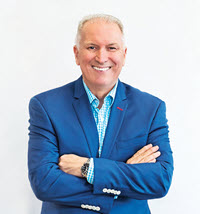 About Keith Abraham, CSP from Passionate Performance
Keith Abraham is a best-selling author of five books, published in 12 languages. In his 25-year speaking career he has presented to more than 1.7 million people across 33 countries.
Over the past 12 months Keith has created a purpose-built virtual studio and delivered 140 virtual presentations to 31,000 people in 27 different countries.
Download Keith's e-workbook: How to find your purpose, achieve goals and pursue your passion
And check out other resources from Keith Abraham that you can download for free.