Article
10 home maintenance jobs for the weekend
Keep your home in top shape with these simple DIY jobs
Potentially increase the efficiency of your appliances
You could also help protect your home from fire.
While weekends and holidays are a time to relax with family and friends, some of that time off can also be put to good use.
So if you have a little spare time, we've pulled together a list of simple maintenance jobs to give your home a new lease of life.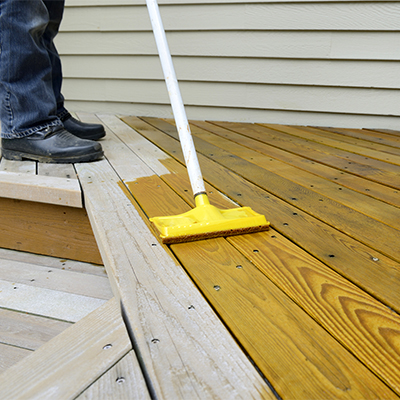 1. Give your deck some love
Remember how great your deck looks when it's freshly restored? Well, it's relatively easy to get it back to its former glory. All you need is a sunny day or two, products of your choice and a little elbow grease.
First, clean your deck with a broom, then follow with a pressure washer or deck cleaning product from your local hardware. If it's really weathered, you may need to sand it. Then choose a decking oil or paint and follow the instructions. This can easily be done in a day – for results that last all year long.
2. Switch your fan direction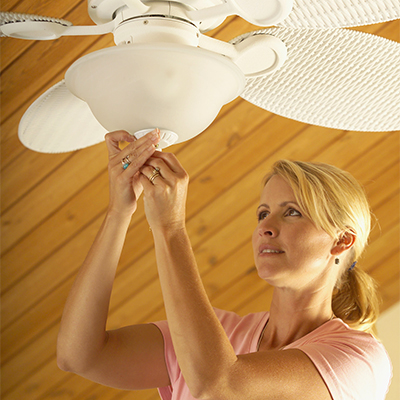 Did you know most ceiling fans rotate in both directions with the flick of a switch? By alternating between clockwise and counter-clockwise, you can enhance the efficiency of your heater or aircon.1
In summer, switch your fan to rotate counter-clockwise to push cool air down. And in winter – yes you guessed it – switch to clockwise to draw warm heat up (on the lowest setting).
3. Clear your gutters and drains
Clearing gutters regularly is a must, particularly if you live in a bushfire or storm prone area. Once you've cleared out the leaves, consider installing a gutter guard to help prevent leaves from making their way into your downpipes and drains.
To clear a blocked drain, try using a snake tool to remove stubborn objects before resorting to harsh drain cleaner.
4. Deep clean your fridge
Did you know a fridge uses on average 13% of your energy bill?2 To minimise running costs, there are a couple of things you can do.
Start by cleaning your door seals. If they're giving up the ghost, you can have an expert replace them. Or if you're handy, you can head online for fridge seal supplies and replace them yourself. An annual dust of the coils on the back is also advised.
For more great tips, see Sustainability Victoria's guide on reducing fridge and freezer costs.
5. Pressure-wash hard surfaces
If you've never seen the before-and-after results of a pressure wash, prepare to be amazed. From driveways, paths and paving to exterior brickwork, cladding and weatherboards, a good pressure wash will have hard surfaces looking as good as new in no time.
You can buy a pressure washer at your local hardware, or perhaps borrow one from a friendly neighbour. Go easy on painted surfaces and mortar between bricks – choose a low setting to avoid damage.
6. Wash your dishwasher and washing machine
Your dishwasher and washing machine see loads of gunk, so from time to time they need a clean too.
There are easy-to-use tablets available from the supermarket.
Prefer au naturel? For dishwashers, sprinkle a cup of baking soda on the bottom of a followed by a hot wash3. And for washing machines, add two cups of vinegar to a hot wash cycle followed by a second hot wash cycle with half a cup of baking soda.4
7. Clean your dryer
In New South Wales alone, 4,500 fires occur in the home each year5 – many of which are attributed to electrical appliances including dryers.
That's why it's important to remove lint from your dryer's filter after every use.
Cleaning lint from vents and pipes is also crucial. A quick vacuum or crevice duster can help to remove dust and fluff.
8. Clear your air conditioner vents
Your air conditioner is a magnet for dust so it helps to give it a regular clean. This not only prevents dusty particles being spread around your home, it could help to improve energy efficiency.6
A simple vacuum will remove most of the dust, but if you'd like a deep clean, turn off the air conditioner and remove the front panel – this can usually involves removing a few screws.
Then clean between the vents with a wet cloth wrapped around a knife. Some air conditioners will need the filter replaced – check the manufacturer's guide for details.
9. Remove scuff marks
Everyday living can result in dirty marks and scuffs around the home, especially around door handles and light switches. Small children and pets are also likely to leave their marks.
Magic eraser pads from the supermarket are true to their name – they really do work like magic. A little sugar soap can do wonders too.
If you have permanent marks – hello toddler scribbles – many hardware stores offer a paint matching service.
10. Sand and paint exterior doors
The harsh Australian weather can take its toll on exterior surfaces. And while exterior painting of your house may be best left to the professionals, doors and windows are a relatively simple DIY job.
Just lightly sand back the door or window frame and apply a primer suited to the surface. Then apply two to three coats of exterior weatherproof paint. Just make sure the next few days are sunny, so your handiwork isn't ruined.
Once you're done maintaining the home you love, take it one step further and run a health check on your home insurance to make sure you're adequately covered – especially if you've made upgrades or new purchases throughout the year.
---
1 https://www.energy.gov/energysaver/fans-cooling
2 https://www.sustainability.vic.gov.au/energy-efficiency-and-reducing-emissions/save-energy-in-the-home/reduce-fridge-and-freezer-costs-at-home
3 https://www.bhg.com/homekeeping/house-cleaning/tips/how-to-clean-a-dishwasher/#:~:text=Baking%20Soda%3A%20Baking%20soda%20works,running%20a%20hot%20washing%20cycle
4 https://www.bhg.com/homekeeping/laundry-linens/tips-checklists/how-to-clean-washing-machine/
5 https://www.qbe.com/au/news/by-room-home-fire-safety-guide
6 https://www.energy.gov/energysaver/maintaining-your-air-conditioner#:~:text=The%20most%20important%20maintenance%20task,significantly%20reduce%20a%20system's%20efficiency