Article
Before the move: 7 tips for living with a housemate
Moving in with a friend or partner can be exciting – but it pays to do your homework
Establishing some ground rules from the outset will help in the long run
Make sure you budget for your expected outgoings.
There's a lot to think about before you move out with a friend or partner. Following these seven tips could make your new life an awful lot easier.
Tip #1: Consider your lifestyles
One of the most important things about moving out is choosing the right flatmate.
Of course, a friend (or partner) is often the logical choice because you'll have an inside track on what they're like – but be honest with yourself. Living with someone around the clock can be completely different from spending time socially.
If you're a night owl who likes to be out and about until the early hours, you might irritate a friend who's tucked up in bed with a hot chocolate by 10pm every night. And, vice versa, someone whose loud alarm goes off at 6am could become tiresome if you enjoy a regular lie in. Have a chat, ask questions and make sure you're 'housemate' compatible.
Tip #2: Agree on food
Whose milk is this? Who ate my hummus? Does anyone know what happened to the last of my coffee? Food can be a source of dispute, especially when you arrive home after a long day and discover the meal you'd had planned in your head has been consumed by your housemate or one of their guests.
Discuss some ground rules early on. Will you have some communal items? If so, what are they and who's responsible for buying them? Do you take turns to cook for each other, or do you go it alone?
Related article: Does renters insurance cover that? 10 FAQs answered
Tip #3: Have the cleaning conversation
As with food, cleaning of the communal areas – living rooms, kitchen and bathrooms – can be a source of disagreement. After all, one person's 'quite clean' is another person's 'filthy'. Again, this is something to discuss upfront. Create a schedule and a list of jobs, and stick to it. Or better still, if you can afford it, consider sharing the cost of a cleaner.
Tip #4: Chat about shared items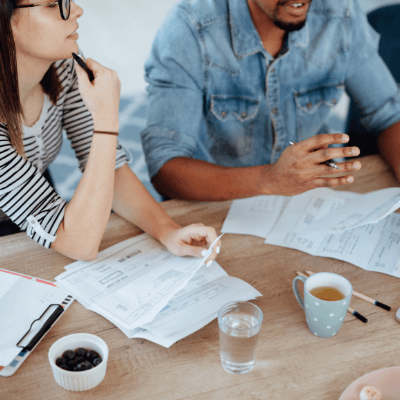 Kitchen roll, toilet paper, washing up liquid, dishwasher tablets, air freshener, washing powder – the list of items that are generally left in common areas and used by both of you and your guests gets longer the more you think about it. So, again, discuss in advance and decide how you're going to operate.
Tip #5: Beware of the bills
Living with a housemate means shared bills. First and foremost, you have to agree how you're splitting the bills – the most reasonable way is a straight split between you and your housemate, but you may encounter situations where it's not so black and white. Perhaps one person is away two or three nights every week. Maybe someone works from home, or is a gamer and uses lots of electricity and WiFi every night? These scenarios will need discussion.
In addition, a number of utility providers prefer bills to be in one person's name – so if that's you, you need to be comfortable with having your name on the bill because ultimately, you're responsible.
Of course, you need to budget for the expenses you'll face each month, as well as the upfront costs of moving in, such as removal fees, bonds and rent.
Related article: Six great unknown things about renters insurance
Tip #6: Redirect your mail
Remember to tell people you're moving. From your bank to your employer, update your address to make sure the right people can contact you. Australia Post's mail redirection service is a great safety net.
Tip #7: Think about insurance
When moving to a new home and in with a housemate, you'll need to consider insurance.
If you'd like to insure your belongings at your new place, you can purchase contents insurance. If you've already got contents insurance, make sure you update your address. You may also have bought some new items to deck out your new place, so looking at covering those on your policy is important too.
Lastly, remember to update your residential address on your car or motorcycle insurance.
Learn more about QBE Contents Insurance