Article
Rebuilding your home after significant flood damage
Damage to foundations and footings may be a factor in deciding whether the building needs to be demolished
Consultation with local and state governments will be crucial to help you understand rebuild requirements
You may need to be patient – it could take an extended period of time to ensure a building is healthy and compliant.
As the recent floods across parts of the country have shown only too well, homes and possessions – as well as lives – can be quickly lost if the weather takes a turn for the worse.
From cyclones to floods, high winds to bushfires, the weather can destroy homes fast, and if yours is in the firing line, there are some scenarios where there's very little anyone can do about it.
Your home and contents insurance covers losses to your property caused by flooding and other weather events.
Your property's flood damaged: but where do you start?
When your property has been damaged by flood water, it's important to notify your insurer immediately. If you're a QBE Home and Contents Insurance customer you can call 133 723 if you need urgent assistance or register your claim online.
The priority for your insurer will typically be to 'make safe' the property. If you're insured with QBE, the team will arrange removal of water-damaged contents and linings to prevent further damage occurring while the property is assessed, and to reduce the possibility of anyone getting injured. This also assists in the early drying out of the property.
After the property has been made safe – including utilities supplied to the property – the extent of the damage will need to be assessed, to establish whether it can be repaired or needs to be demolished.
"It's particularly important to understand how the flooding might have affected the building's foundations and footings," says Simon Croft, Executive Director – Building Policy & Services, of the Housing Industry Association.
From there, the extent of the damage can be gauged, and a determination made on whether elements can be rebuilt, or whether the damage is so extensive that it would require significant rectification or demolition1.
If this is the case, an engineer may be appointed.
Beginning the rebuild process
If the property has to be demolished, there are a number of considerations to contend with – including that older dwellings are more likely to have asbestos2.
Specialist contractors will need to be employed for this, and it's worth noting here that the sum you have your home insured for should account for this work too – it's not simply market value. Those figures can be very different, so it's important to review the value of your home and the sum you have it insured for on a regular basis.
To understand what's required to rebuild on the site, a number of reports and tests would need to be conducted to determine the considerations of safely rebuilding3.
"In a lot of cases, it's not going to be a case of being able to rebuild straight away," warns Croft.
The new property will need to be designed to current building codes, as well as consideration to its environment.
"It'll need to look at the assessment of the building and the site itself, and then the mitigation measures, the placement of habitable areas in the building, and the design of the footing structures of the building," says Croft.
While the process for a new build on a new site is relatively straightforward and well established, there are a few other things to consider when rebuilding after a flood.
"You or your insurer would need to talk to the local or state government about the rebuild and location of the building to discuss some of the technical aspects of the design," says Croft.
From there, planning approval will be required in most circumstances, with a building surveyor or certifier overseeing the plans for the new dwelling4.
Designing a home that minimises future flood damage
"The building should be constructed to ABCB standard and current codes, and there are different waterproofing requirements internally in the building" he says.
"The habitable areas of the dwelling should be higher set, which makes the property more resilient."
Who do you need to rebuild your home?
To help create your new home, a number of different people will need to be involved at different stages.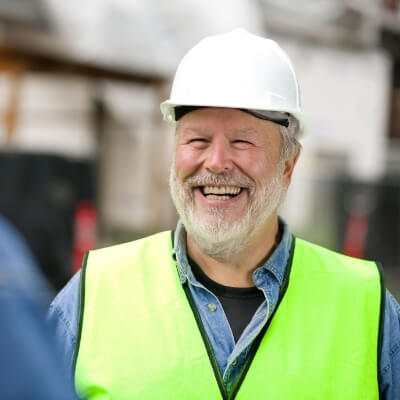 After those initial assessments, a rebuild will need many of the same skills as you'd need if you were carrying out a new build.
Professions may include a builder, architect, engineer, electrical contractor, plumber, certifier, landscaper, inspector, roofer and carpenter, and it's important to work with qualified and trusted professionals you connect with. After all, it's an important project, and you're going to be working with them for a good amount of time.
If you're a QBE customer, a qualified team of suppliers will be appointed to manage your rebuild. If you have insurance with another company, they may need to appoint and/or approve any contractors.
Croft says it's smart to find professionals with relevant repair experience. "There might be underlying issues that need to be considered," he says.
Ask around for recommendations, check out online ratings and make sure you check they're legitimate (see links below). After you've done that, meet with the builder and ask them to quote on the job.
You must have a contract in place with your builder, which is normally a government regulated contract.
Domestic building contracts include a lot of information, so you may want to get it reviewed by a professional5.
How do you find licensed contractors?
If you don't have insurance and are coordinating the build yourself, it's important to verify the credentials of the people you bring in to help you rebuild your home.
Regulations vary from state to state – see individual state registers for builders and trades – ACT, NSW, NT, SA, TAS, VIC, WA.
Membership of a peak body is also a good attribute to look out for in tradespeople, as they often need to keep up with continued professional development to be a member.
Architects are accredited by the Architects Accreditation Council of Australia and the peak body for architects in Australia is the Australian Institute of Architects – you can search their members here.
For electricians, check out members of the National Electrical and Communication Association (NECA) or Master Electricians.
Master Builders and the Housing Industry Association are good places to look for reputable builders, while at Master Plumbers you'll find… you guessed it.
How long does it take to rebuild a home?
It's difficult to put a timeframe on rebuilding your home. After all, there could be significant time needed to wait before work can safely begin to clear the site, and in areas that have been impacted by flood damage, tradespeople are likely in high demand.
"Patience is really important throughout all of this process," he says. "It does become quite a challenging period and it's not always a fast turnaround."
This will be dependent upon the availability of trades to complete the work required. If you're in an area with widespread damage, you are likely to face extended delays.
In summary
Of course, regardless of how long it takes, the important thing in this scenario is that your home is rebuilt to be as resilient as possible to future weather events.
Building codes have evolved tremendously over the past 20 years, and by following the correct process and standards, you'll ensure you've given your property the best possible chance of surviving in the future.
Protect yourself: review your home and contents insurance
If you haven't reviewed your home and contents sums insured recently, now's a good time to do so. Remember, the value of your home should be insured for the cost of demolition, rebuild and temporary accommodation to ensure it's valued at current costs, including recent increases in materials and labour.
Find out more about QBE's Home Insurance
---
1
From interview with Simon Croft, HIA.
2
From interview with Simon Croft
3
From interview with Simon Croft
4
From interview with Simon Croft
5
https://www.fairtrading.nsw.gov.au/housing-and-property/building-and-renovating/preparing-to-build-and-renovate/contracts/home-building-contracts