Article
What are the top insurance risks for small business insurance customers?
Analysis shows property cover attracts the highest proportion of claims for QBE's small business customers in Australia1
Public liability – also known as business liability – insurance claims are also common
The following insights could help you decide what insurances you need, so you can tailor suitable cover to help protect your small business
When it comes to small business insurance, it can be tricky to understand what you need cover for. Public liability insurance? Tick. Property? Perhaps. Tool insurance? Maybe.
A good place to start, is to look at what Aussie small business owners and sole traders are taking out cover for. When it comes to businesses with less than $1 million turnover, types of cover varies from business to business.
Small businesses by nature are generally niche. Which means insurance needs are niche too. So, it helps to find an insurer that lets you tailor your policy. That way, you have the flexibility to choose the cover your business needs, without paying for extras you're unlikely to use. But where do you start?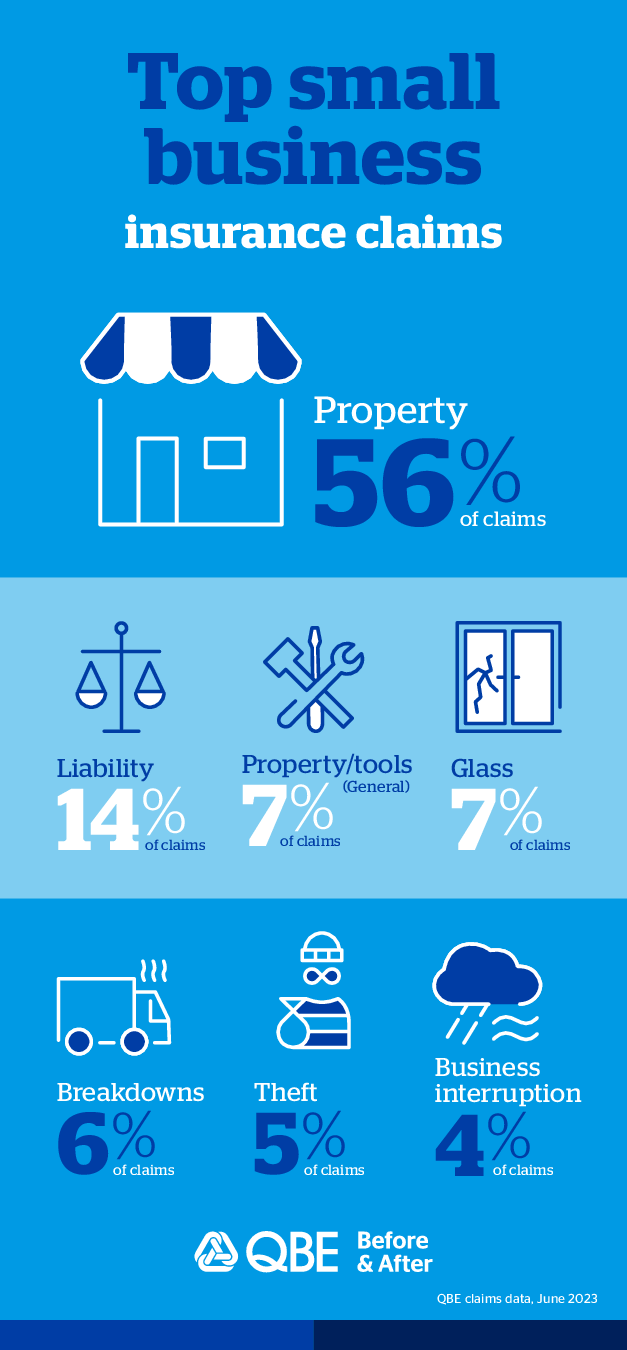 (View larger | Download PDF )
Start with public liability insurance
Most small business insurance policies offer public liability – also known as business liability. This covers against third-party personal injury and property damage claims.
It's crucial for tradies, who often can't start a job without a Certificate of Currency (your proof of cover).
Consider adding additional covers
The field you work in will determine any extra covers you need. For example, retailers with a shop front and glass cabinets are likely to add property and glass cover, whereas tradies who rely heavily on their tools may want to include theft cover. Learn more about optional covers.
So, what are small businesses claiming for?
Based on QBE claims from small business customers with a turnover of less than $1 million, property damage tops the list at 56% of overall claims.
Then things get interesting. Public liability follows at 14%, with general property and glass – both at 7%. Just behind is breakdown at 6%, theft at 5% and business interruption at 4%.
With this in mind, it's clear property and public liability cover is likely to be a priority for many small business owners. And depending on the type of industry you're in, glass, breakdown and theft insurance may be worth considering too.
Take a look at what your business can't operate without – a laptop for instance – and think about covering those items.
Review your business cover every year
Remember, your small business insurance policy is not set and forget. Once you've got your cover in place, it's important to check the sum insured values on your policy when you renew each year, particularly in today's economic climate.
Right now, claims are being hugely impacted by rising costs, including:
Building products and materials
Equipment and machinery replacement, or the cost of parts
Labour costs
Bodily injury claims are also being affected with increased medical expenses and court awards. So, if you don't have the right amount of public liability cover, and you go to claim, the difference in costs could leave you out of pocket.
Also, as a business changes and evolves, so do insurance needs, which is why it's important to keep on top of your cover. If you don't review every year, you may find yourself liable for expenses you haven't planned for.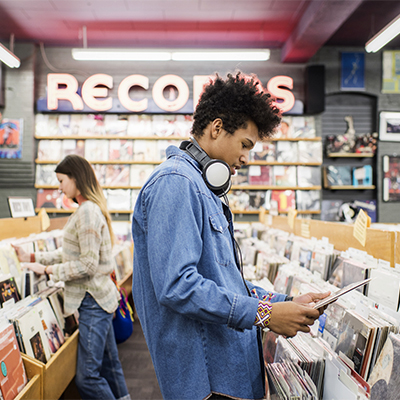 Don't fall into the underinsurance trap
Small businesses can often be susceptible to underinsurance (not having enough cover).
This can be because:
Buildings are under-valued, so there's a gap in what you can claim versus the actual replacement cost
The business goes through changes, which can introduce new risks you may not be covered for
You don't make large purchases like an industrial fridge very often, so it's hard to stay across current prices if equipment needs replacing
In summary, getting cover for public liability is a good place to start. Then you can tailor your policy to include extra covers to suit your specific needs. That way, you can get back to work knowing your business is better protected from the unexpected.
---
1 QBE claims data, June 2023