Article
What to do after a storm
This article is intended as a general guide only. You should consult your state fire and emergency services for further information.
Knowing what to do after a storm may seem like an overwhelming task if your home is damaged. But once the danger subsides and you have safe access, there are several steps you can take to restore your property and make it easier for your family to look confidently towards the future.
David Gow, Head of QBE Property Claims and Arron Mann, QBE General Manager, Short Tail Claims, offer practical advice dealing with the aftermath of a storm.
Related article: What to do if your car is damaged in a hailstorm
Damage inside your home
Downpours can cause problems to your electrics long after a storm has occurred so continuing to monitor weather services for updates and news is important, says Mann.
The Bureau of Meteorology (BOM) has various helpful storm maps and information you can access online. For example, if you live in South East Queensland, check Storm Tracker, which predicts the position of a severe storm 30 minutes in advance.
"Check electrical items have not been affected by water and are safe to use. If you're not sure, get them tested, particularly if there were a lot of lightning strikes in the area," cautions Mann.
Flooring is another area that can be affected, adds Mann. "Storms will often cause damage to carpets and flooring to home contents as a result of rainwater and run off."
Ceilings are more susceptible to long-term damage. "Ceilings are often damaged as a result of roof plumbing not coping with the amount of water," explains Mann. "Be careful when returning home because of the potential for ceilings to collapse. Sometimes you won't even know that you have a leak in your ceiling cavity until insulation is so soaked that it's too heavy for the ceiling to hold."
Hail can cause considerable physical damage, according to the Bureau of Meteorology. "Be careful of broken glass when checking your home, especially if there has been a hailstorm," says Mann. "Secure windows straight away. In this circumstance you can call one of our glass providers directly – O'Brien or Express Glass."
Damage outside your home
Your roof is the main external area that will need careful examination, Mann suggests. "People don't always check their roofs for storm damage, and this can cause problems later on so it's worth checking, but only if it's safe to do so."
Mann also recommends contacting your state-based emergency service for serious roofing problems if necessary. "In high winds, a storm can lift up roof sheeting. If this happens, put tarps in place for the short-term."
If you suspect asbestos is in your roof, do not attempt repairs on your own. "Asbestos can also be an issue with roofing and will require expert help," advises Mann.

Hailstorms are also notorious for damaging cars. "Your car will most likely still be drivable, but if your windscreen is damaged you should avoid driving the car if possible. The key is to contact us to lodge your claim, and we can refer you to the most appropriate suppliers to help you," suggests Mann. "The specialists will decide the next course of action, whether that be Paintless Dent Removal, panel beating or making the decision to write-off your car."
Even after the storm appears to be over, do not go sightseeing. You don't want to get in the way of emergency recovery operations or endanger yourself or others. But it is a good idea to check on your neighbours and see if they need assistance.
Continue to avoid waterways, drains, fallen trees, fallen power lines and damaged buildings.
If you were out driving and remain in your car after a flash storm, resume driving when it's safe but do not enter floodwater. Proceed with caution as roads can be slippery, covered in debris or your vehicle can become bogged.
Related article: The La Nina effect - how to prepare for the storm
Disaster chaser scams
Homeowners should beware of disaster chasers who door-knock damaged homes seeking to exploit vulnerable householders following storms.
Disaster chaser scammers approach customers offering unapproved assessments and repairs of potentially poor standard and are often not covered by insurers, says Gow.
"Many disaster chasers are dodgy operators who are simply trying to con unsuspecting homeowners and convince them to pay for substandard work – in many cases they don't have the correct qualifications, licences or professional indemnity insurance."
"Please don't be pressured by a disaster chaser to sign a contract or allow them to take on any repair work to your home. They may even promise that your insurer will pay for the work. This isn't the case - insurers will only pay for approved work that is covered by your policy. Any work undertaken by a trade associated with a disaster chaser will have no guarantee on the quality of the finished product.
"We've also seen similar circumstances with towing scammers. These scammers con car owners into paying them for unauthorised tows and then often hold vehicles ransom."
"If you've been affected by storms, contact your insurer and make a claim through the proper channels.
"And if you identify a disaster chaser please report them to the relevant authorities."
The claim process
Destruction caused by a storm can be a life-changing event, so it's important the insurance claim process which may follow is as simple and stress-free as possible.
To help with this process, it's important to lodge your claim as soon it's safely possible and take plenty of photos of damage caused in and around your home, says Mann.
If you're a QBE Home insurance policyholder find out more about lodging a claim.
And, if you're affected by a storm and not sure if you're covered, check your Product Disclosure Statement (PDS).
Find out more about QBE Home insurance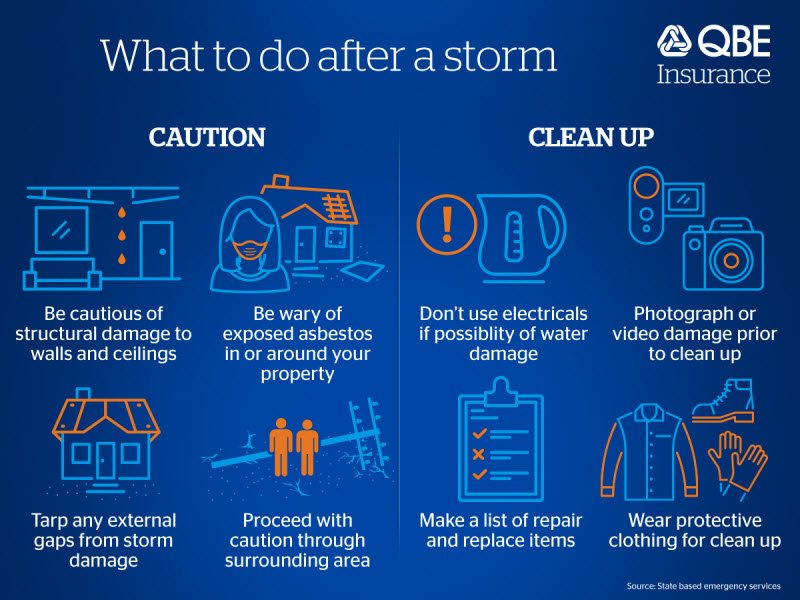 Note: This article was originally published in March 2017 and was updated in November 2020.
---
The insurance products mentioned in this article are issued and underwritten by QBE Insurance (Australia) Limited (ABN 78 003 191 035, AFSL 239545). The advice in this article is general only and has been prepared without taking into account your objectives, financial situation or needs and may not be right for you. To decide if this product is right for you, please read the relevant Home or Car Insurance Product Disclosure Statement (PDS) and Financial Services Guide (FSG).