Article
3 marketing ideas for small business
If there's a slowdown in business, it helps to look for strategies to bring in customers
Social media is just one way to grow your business – even on a tight budget
These three marketing tips can help you promote your business and connect with customers
When business is slow, marketing has never been so important. Just a few well thought-out ideas can help to drum up business – even on a shoestring budget.
Investing a little time to promote your business through social media and other areas is a great way to attract customers now – and set yourself up for long-term success. Here are three tips to get started.
1. Take advantage of social media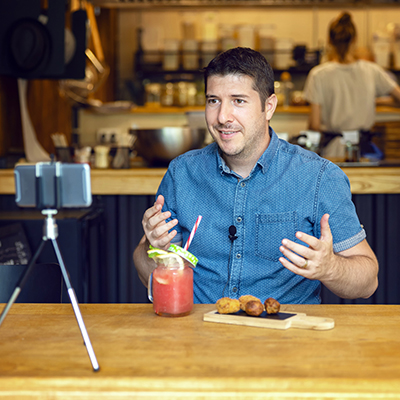 In January 2023, there were 21.3 million active social media users in Australia1 – that's 81% of the population. And while most of us use social media to connect with friends and family, it's an equally powerful tool to connect with your existing customers and attract new ones. Plus, in most cases it's free.
For practical tips on getting social media working for your business, see our guide on how to use social media for business.
There are endless topics to talk about, but recent research shows that small businesses are passionate about sustainable practices and social issues2, from being inclusive to sourcing ethical products. Promoting these values on social channels could help to attract like-minded customers. Just be sure you can back up any claim you make, so you don't accidentally misrepresent your business or products.
2. Get across the marketing basics
As a small business or sole trader, you may not have a marketing team. That's why it's good to have a basic understanding of how marketing can help you grow your business.
A great place to start is reading our Small business marketing: 10 questions answered guide, where QBE's General Manager, Marketing, David Hirsch, provides some invaluable tips.
3. Help people find you on Google
When people are looking for a good café or a retail store, they'll often head straight to Google. The same goes when a customer needs a local tradie.
But when you have lots of competitors, there's no guarantee your business will appear on Google. That's where search engine optimisation (SEO) can help. To learn what SEO is and how it could work for your business, check out our overview of search engine optimisation for small business.
Check you have public liability insurance
Whether your business is booming or slowing down, it's important to have public liability insurance in place.
Could your business survive if you were hit with a lawsuit from someone seriously injured on your job site, café or shop? That's why public liability insurance is crucial – and in some cases – mandatory.
If you're looking for public liability – also known as business liability insurance – QBE's Small Business Insurance has been designed with tradies, cafés and retail stores in mind. Start with business liability cover and add any extra covers to suit your business needs.
And remember, if your turnover has significantly increased or decreased, it's a good idea to let your insurer know as your exposure may be affected.
---
1 https://www.meltwater.com/en/blog/social-media-statistics-australia
2 Cameron Research, August 2023