Article
Four motorcycle safety tips for street riding
When you ride a motorcycle in traffic-filled streets, it's literally vital to stay constantly on guard.
Exposure to motorcycle accidents on the road has increased significantly in the last ten years with motorcycle registrations in Australia increasing by 5 per cent each year, according to the Bureau of Infrastructure, Transport and Regional Economics (BITRE).
In 2016, the BITRE found motorcyclist fatalities were up 22.2 per cent from 2015, accounting for nearly one in five road deaths.
QBE Customer Service Manager for Motorcycle Operations, James Canny has over 27 years' experience in the motorcycle industry as an instructor, testing officer, superbike racer and road user.
He has four key tips motorcycle safety tips for street riding that are important to understand before you hit the road.
1. Get the right motorcycle training
"It's very difficult to completely master motorcycling," Canny says.
"There's always more to learn after your initial certification and riding course and the best advice is to keep learning new safety tactics from experts and continue to be aware. Never overestimate your skill level, no matter how long you've been riding. There are many great safety courses for riders."
2. Always assume invisibility
As a motorcycle rider, you must be aware that you can be practically invisible to other drivers on the road, according to Canny.
"Unfortunately, you've got to assume the worst and be ready for that scenario. Motorcycles can be easily hidden by other things on the road like telegraph poles, signs or other cars, so prepare for those drivers who change lanes or pull out in front of you when they don't see you," he says.
"The majority of people driving cars on the road don't know people who ride motorcycles or have never ridden one before themselves, so they have little knowledge about road riding and don't look out for motorcyclists as they do instinctively for drivers of cars and trucks – especially in blind spots."
"When people ask me how I stay safe on the road I always tell them my golden rule is: "I pretend I'm invisible. That way I'm always ready for the unexpected," Canny says.
3. Defensive motorcycle riding
Maintaining a buffer zone allows for mistakes made by car drivers or yourself on the road, according to Canny.
Defensive riding is about making assertive decisions including braking and correct speed in constantly changing traffic conditions to ensure there's a safe following distance between you and other vehicles.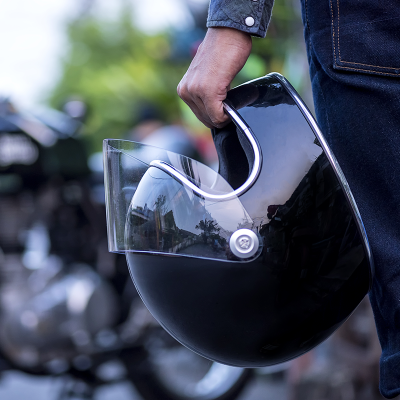 "The more space between you and other vehicles or stationary objects means the safer you will be. Your buffer zone needs to make up for the lack of physical protection that other vehicles have the luxury of," Canny says.
4. Motorcycle tyre pressure
If your daily commute is via motorcycle, Canny stresses how important it is to have the correct tyre pressure. Under-inflated tyres reduce the performance of the motorcycle resulting in heavy steering, slow handling, reduced traction and extended braking distances, which all affect your safety.
"If you're riding your motorcycle every day, you should check your tyre pressure once per week at a petrol station," he says.
Canny adds that checking the pressure frequently can also save costs long-term. When tyres aren't properly inflated and ridden frequently on the road, they deteriorate quickly and will have a shorter lifespan.
"Air is free and it's a simple thing you can do to keep yourself safer on the roads." Canny says.


*Our competitive price offer

We guarantee to beat our competitors' prices on motorcycle insurance policies (excluding our Platinum Cover). This also applies to existing QBE motorcycle insurance policies that are on renewal. This offer is based on our standard price compared to competitors and other conditions may apply. This offer is valid for the first 12 months of insurance only, after this premiums will be charged at the competitive QBE standard rate. We only agree to beat the price of APRA authorised insurers who hold an AFSL issued by ASIC. The guarantee does not apply to any free offers of insurance.