Article
What to do before, during and after a hailstorm
Hailstorms can cause significant damage – and considerable insurance losses
A recent study shows that over the coming years, hailstorms could become more frequent and severe in Australia
By taking preventative measures before a hailstorm strikes, you may be able to reduce the impact on your business, home and property.
You didn't have to experience the Sydney hailstorm of 1999, the recent (2023) hailstorm in Newcastle, NSW, or the many others that have impacted us over the past few decades, to understand their devastating impact.
While the Sydney hailstorm was more than two decades ago, it remains, from an insurance perspective, one of Australia's costliest natural disasters. Insured losses were huge – $5.8 billion at October 2021 adjusted prices1 – and is just one example of the cost and severity of damage hail can cause.
While many of us in Australia are likely well-accustomed to hailstorms and their aftermath, there are ways you can prepare and reduce the risk of damage to your car, home, business and property.
Are hailstorms in Australia becoming more frequent and severe?
According to international research led by UNSW Sydney,2 Australia is expected to experience more hailstorms, which could also be more severe, over the coming years – particularly in the southeast of the country, including Sydney.3
While researchers said current and future climate change effects on hailstorms remain highly uncertain, it is expected that, as a result of climate change, there will be more moisture in the atmosphere – leading to instability and creating the potential for more severe hailstorms.
Researchers did note, however, that: "There's very high uncertainty when it comes to these predictions… We need to do further study to find out exactly what we expect to happen, not only in Australia but across the world."4
If we look at historical catastrophe data from the Insurance Council of Australia, it shows that between 1967 to July 2021 a total of 32 severe hailstorms occurred – 12 in the first half of this period (1967 to the end of 1993), which equates to roughly one severe hailstorm every 2.3 years, and 20 in the second half of the period (from 1994 to July 2021), approximately one every 1.4 years – suggesting that severe hailstorms have been occurring more frequently in recent decades.5
Over the past few years, we've also seen an insurance catastrophe declared for parts of South Australia in 2021, after a hailstorm resulted in more than 12,000 claims.6 While in May this year (2023), a hailstorm in Newcastle, NSW, was declared a significant event,7 with just over 7,500 claims lodged within 72 hours – approximately 6,000 of which involved damage to motor vehicles.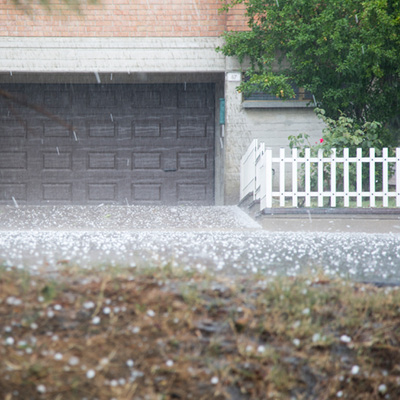 What damage can hail cause to homes?
Regardless of how severe and frequent hailstorms develop in the coming years, they will remain a reality for most Australians – and can cause serious damage in a matter of minutes.
When it comes to your property, hailstorms can damage roofs and skylights – which can cause subsequent water damage from hail and rain getting into your roof cavities and your home.
If your drains and downpipes aren't clear, hail and any accompanying rain can cause further damage from excess water running back into the roof space.
Windows and glass doors are also vulnerable and can be cracked or smashed by hail, while significant damage can be caused in your yard to everything from solar panels to outdoor furniture and garden beds.
What damage can hail cause to vehicles?
Cars and other vehicles are particularly susceptible to hailstorms. Hail can cause serious damage, including dents in the bodywork, cracked or smashed windscreens and windows, and in some cases, can cause significant enough damage that they are assessed as a write-off.
Before a hailstorm: prepare your home and business
Preparation is key in reducing the risk of potential damage from hailstorms. Below are some practical steps you can take to prepare your home and business ahead of storm season.
Perform routine roof maintenance: if safe to do so, check your roof or consider getting professional maintenance once a year to prevent minor damage from becoming a major problem. A cracked tile may not look like a big deal, but if a storm hits it could result in water getting into your roof space.
Keep drains and downpipes clear of natural debris: this should be a regular task on your list, as should pruning trees and branches in the immediate vicinity of your home. This can prevent your gutters from getting clogged and reduce the dangers of flying branches damaging property. Tree pruning and cutting is heavily regulated, so check with your local council before you begin, and consider hiring a professional if you're not confident being on a roof.
Consider the design of your roof and guttering when building or buying property: hail is heavy - and if your roof isn't designed to hold this additional weight, it may cause structural damage. Box guttering is also susceptible to blockages from hail, which can result in water entering the building. Researching the frequency and severity of hailstorms in your area can help you to understand the design requirements of your home or business.
Consider safety screens to protect your skylights: while some brands of skylights are hail tested; some are not. So, if you're installing new skylights, keep safety screens in mind.
Check your window seals: windows can be another vulnerability, so make sure you check around the frames for any weakness, and replace the sealant as needed.
Review your insurance policies: it's always a good idea to check your insurance coverage before something happens. Make sure you've got the right levels of cover in place, as the amounts you were covered for a couple of years ago may not be adequate to replace everything today.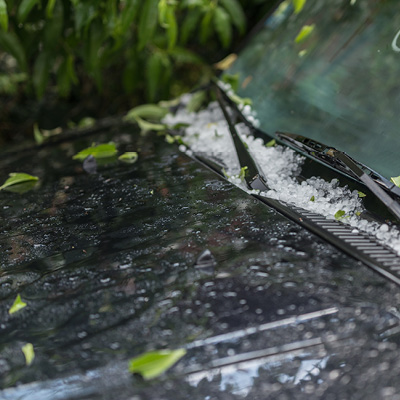 Before a hailstorm: prepare your car and fleet vehicles
Preparing your car and other vehicles for a hailstorm can be a little trickier, as they have the potential to be on the move when a storm hits.
Where possible, it's best to keep your vehicles under cover, so keeping your garage clear and accessible is advisable. Also consider keeping a protective cover or a few old blankets in your car as a back-up, should a hailstorm approach while you're out and about.
If you have a fleet of vehicles for your business and don't have permanent undercover parking, create a contingency plan – identify places you can park each vehicle so when a hailstorm is nearing, you're already a few steps ahead.
Before a hailstorm: monitor the local weather
Keeping an eye on the weather is vital during storm season in Australia. If you know what is coming your way, you may be able to reduce the potential damage your home, business premises, private vehicles and work and fleet vehicles.
During a hailstorm: get to safety and minimise potential damage
If you hear news that a hailstorm is forecast, it is time to act. If safe to do so:
Make sure any outdoor furniture is either secured or brought indoors.
Park your vehicles undercover, where possible.
Place the hail covers on your car.
If you are in an area that's prone to flooding, lift things up off the floor if possible. In business premises, don't leave stock or files on the basement floor – lift them onto a pallet.
The most important thing to do in any severe weather event is to move to a place of safety. If you're at home when the storm arrives, stay indoors and wait for it to pass.
If you're on the road, it's best to pull over and wait out the storm. Even if there is no hail, heavy rain can create dangerous driving conditions – reducing visibility and tyre traction. Always remember – never enter floodwater, no matter the situation.
After a hailstorm: assessing damage and help with claims
Once the hailstorm passes, it's time to assess your home, business, property and vehicles for any damage. In catastrophe events such as hailstorms, QBE customers can use our quick and easy online form to lodge their claim.
If your car or vehicle is damaged, QBE's national Hail Repairer Network partner Action Smart Group will help get it back into shape. Our team will help you throughout the process – you'll be kept informed of progress on the repair of your vehicle, and taxi vouchers are available to help you get to and from our repair locations.
If you would like to talk about your insurance needs, reach out to your broker, or contact our team on 133 723 or fill in our online enquiry form today.
---
1 https://www.insurancebusinessmag.com/au/news/catastrophe/australias-top-five-most-expensive-natural-disasters-revealed-313539.aspx
2 Raupach, T.H., Martius, O., Allen, J.T. et al. The effects of climate change on hailstorms. Nat Rev Earth Environ 2, 213-226 (2021). https://doi.org/10.1038/s43017-020-00133-9
3 https://newsroom.unsw.edu.au/news/science-tech/how-will-climate-change-affect-hailstorms
4 https://newsroom.unsw.edu.au/news/science-tech/how-will-climate-change-affect-hailstorms
5 https://insurancecouncil.com.au/wp-content/uploads/2021/08/ICA-Historical-Catastrophe-List-July-2021.xlsx
6 https://www.insurancebusinessmag.com/au/news/breaking-news/thousands-of-claims-as-hail-rain-and-wind-pummel-australias-eastern-states-314994.aspx
7 https://insurancecouncil.com.au/resource/insurance-council-declares-newcastle-hailstorm-a-significant-event/