Article
Returning to your home after a bushfire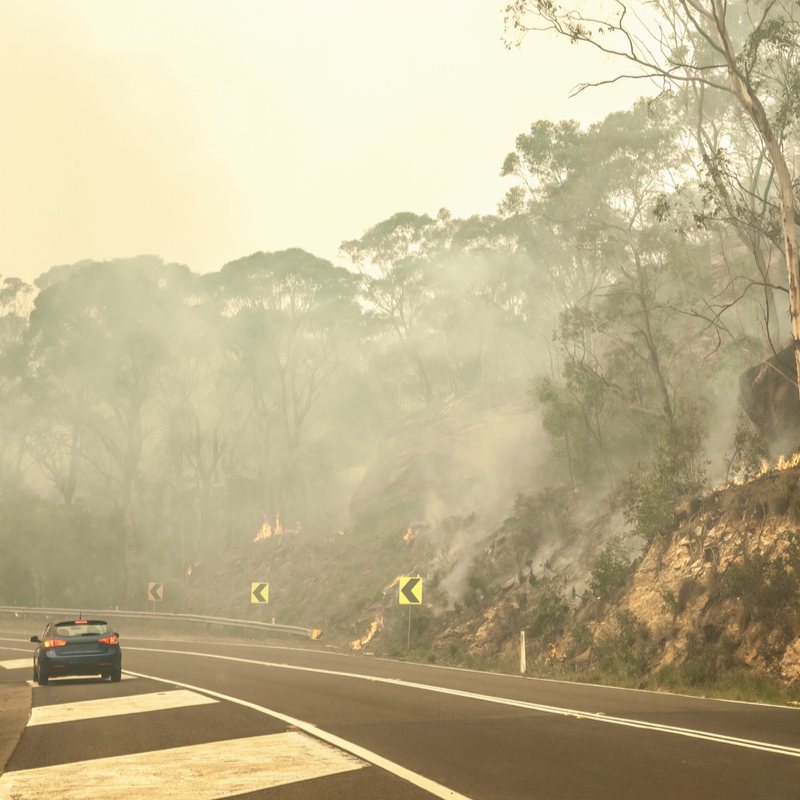 This article is intended as a general guide only. You should consult your state fire and emergency services for further information.
How you handle the return to your home after a bushfire is critical for your safety. You need to also meet relevant emergency services requirements which should set you up to move forward positively with your life.
It's a natural impulse to want to return home once a bushfire threat is over. However fire authorities warn that it is critical to wait for the official all clear. This information is available at evacuation centres in your area and you can check radio, television, or online for status updates for your area.
Once you do get the all clear, make sure that you are carrying plenty of water, plus a torch and radio. Have your mobile phone fully charged and tell someone where you're going. Wear protective clothing and heavy-soled shoes, and take with you some thick rubber gloves and a facemask.
Approach with extreme caution
Infrastructure such as roads, power lines, walls, bridges and footpaths may have been destroyed or damaged. Burning debris, fallen branches and trees are also hazards, and emergency services may still be working in the area, so resist the urge to rush and be aware of your surroundings.
The impact of first seeing your home after a bushfire can be shocking and distressing, so it's a good idea to take someone with you.
Returning home after a bushfire: a checklist
Do not enter the property unless the authorities have given you the go-ahead. If the cause of the fire is under investigation you may need to be accompanied by a police officer or fire investigation officer. Access to your home will most likely be limited to adults because of safety concerns.

Look for hazards such as burning embers, live electricity, leaking gas, leaking septic tank or sewage.

Check to see if your power, phone, water, and gas are working. Do not switch on the power to anything that appears damaged.

Take plenty of photos, and be systematic in your photo coverage, start with the exterior and any other buildings on your property, then take photos of the interior and contents. Photos will assist with your insurance claim.

If your home is habitable, The Australian Red Cross advises following public health guidance for fire ash, particularly the risk of damaged asbestos. During clean up, wet down debris to minimise breathing in dust and proceed with caution.

If you suspect your water supply has been contaminated, don't drink it, clean your teeth with it or use it to wash your hands, dishes or food.

If you have lost power you will need to clear spoiled food from your fridge and discard any other supplies that have been exposed to heat, smoke or soot. "Make a list of the spoiled food and take your best guess on value – we don't need every detail, to help process a claim," says QBE's General Manager, Claims, Arron Mann.
If you need to make a claim on your insurance, make contact with your insurer, but be aware there could be delays due to high call volumes. "If you do need to make a claim, consider whether you need to call immediately," says Mann. "High call volumes can contribute to slowing down the claims process."
What happens next?
If your home is uninhabitable, secure it before you leave, The WA Department of Fire Emergency Services (DFES) offers this advice "You will need to take reasonable precautions to protect your home from the weather and potential theft or vandalism such as covering any holes in the roof or walls. You need to make sure that any doors, windows or openings are secure and only approved access to the site is allowed. This can be done by locking and securing external doors and openings. If necessary, use plywood sheeting or install temporary fencing."
Your insurance policy may cover you for temporary housing. If this is the case then Mann suggests, "If you can't return home because of damage or access issues, think about what accommodation and food requirements you need straight away. If it's going to be for the longer term, an apartment may be more functional than a hotel for you and your family. We can help you with these issues. State and federal governments may also provide cash assistance, up to a certain cap – so find out if you're eligible. And, remember, any repairs made through an insurance claim have a guarantee for life."
Read more about preparing for bushfire and what to expect during a bushfire emergency.
Emotional support
Don't overlook the trauma of what you experience. Reach out to other people for comfort, try and reconnect with a routine, and take one day at a time. Contact Lifeline, the Australian Psychological Society, or your GP for a referral and ensure you and your loved ones get the support needed.